Client: Inverclyde Chamber of Commerce
Project: In-studio Videography and Motion Graphics for the Icon Awards
Challenge: The 2023 Inverclyde Chamber of Commerce Icon Awards, an event celebrating excellence in business, needed a dynamic and visually striking presentation for its 22 nominee videos. The challenge was to create a cohesive and engaging experience that would leave a lasting impression on attendees and online viewers.
Solution: Our agency stepped in with a comprehensive solution. We combined in-studio videography with captivating motion graphics to craft a branded graphics package that would set the stage for the event.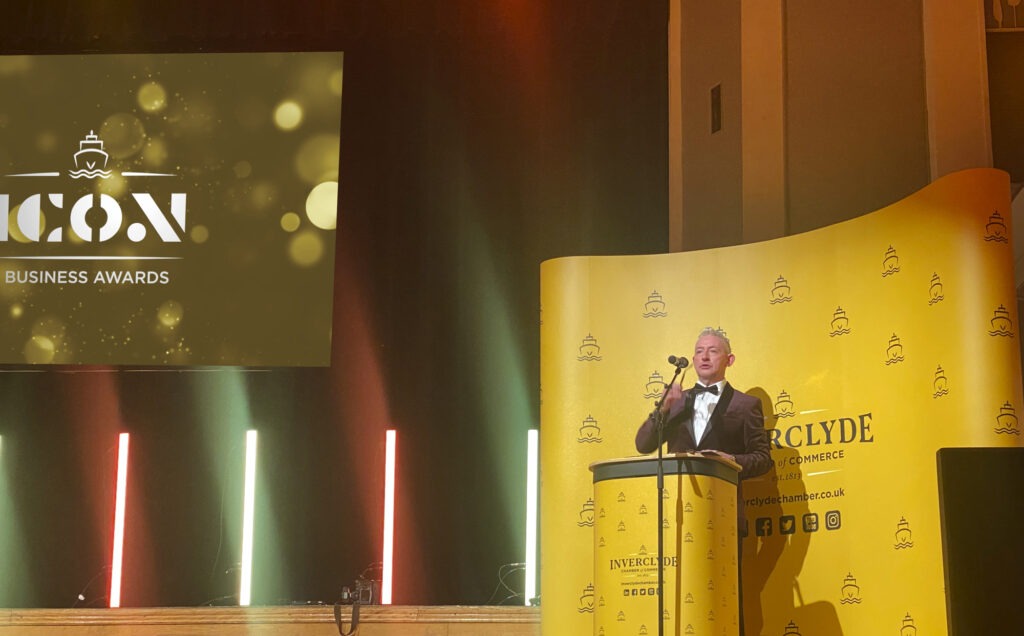 Execution:
In-Studio Videography: Our team brought the nominee stories to life through high-quality videography. We conducted interviews, captured candid moments, and highlighted the remarkable achievements of each nominee.
Motion Graphics: To tie everything together, we designed a stunning set of motion graphics that seamlessly integrated with the event's branding. These graphics not only introduced each nominee but also created an atmosphere of excitement and anticipation.
Branding Package: The creation of a branded graphics package ensured a consistent and polished look throughout the event. From lower-thirds to transitions, our package enhanced the overall visual experience.
Results: The 2023 Icon Awards were a resounding success, and our contributions played a pivotal role:
Engagement: The nominee videos, with their compelling visuals, garnered significant attention both during the event and on social media.
Memorable Experience: Attendees praised the cohesive and visually captivating presentation, making the event unforgettable.
Client Satisfaction: The Inverclyde Chamber of Commerce expressed their delight with the final result, and their partnership with our agency for this event.
Takeaway: Creative excellence and a strategic approach to in-studio videography and motion graphics can transform any event into a memorable and engaging experience. If you're seeking to elevate your brand or business, consider the power of visuals to make a lasting impact.

Looking Forward: We're here to help your B2B or B2C business shine with top-notch video, motion graphics, and branding. Let's collaborate on your next project and create something exceptional together. Contact us today!


#CaseStudy #SuccessStory #CreativeExcellence #Videography #MotionGraphics #Branding #EventSuccess #BusinessAchievement #InverclydeChamber #IconAwards #ClientSatisfaction